Friday, January 18, 2008
I recently read an article from the
Inquirer
which actually warns consumers from buying fake handsets sold locally.
Here's the rest of the article, read it and be wary:
MANILA, Philippines -- Mobile phone company Nokia Philippines is warning consumers about the proliferation of fake Nokia devices being sold in the local market.
A team from the Asia Pacific region is now coordinating with local enforcement agencies to conduct an investigation on the sale of these fake products, which is likely violating the company's brand, said Nikka Singson-Abes, corporate communications manager of Nokia Philippines Inc., in an interview.
Singson-Abes said Nokia Philippines has received reports from its Nokia centers that have been receiving fake products from customers wanting to have the units serviced.
"We're also trying to verify reports about those being sold in popular malls and in the provinces," she said.
The Nokia Philippines executive said the latest Nokia phone models like
Nokia Xpress Music
Nokia N81
,
Nokia 5310
,
Nokia N95
,
Nokia N82
,
Nokia 6120
, were being sold at half or a third of the original price, which is an indicator that the unit might be fake.
"They're branded Nokia and sometimes even the packaging is made to look like the real thing. I am told the phones are lighter in weight than the original. Some are being brought to the Nokia Care Centers for repair and because they are fake, they are turned down," she said in an e-mailed advisory.
Asked how serious the problem has turned into, Singson-Abes said this development has already prompted the local office to warn consumers.
--+--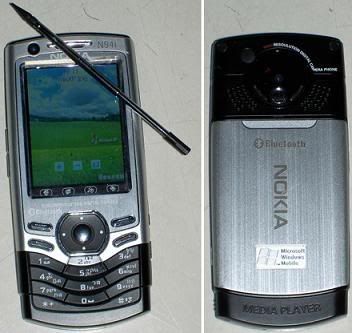 China cloned Nokia N94 phone
Posted here are some ways which are helpful in choosing and differentiating fake handsets from the original ones.
a.) Price of a fake Nokia is almost half or one-third of its original counterpart.
b.) Abnormally lightweight phones can be fake, so beware, for humans light weights are in but not for phones.
c.) Fake mobile don't have the blue colored 12-month warranty sticker. If the phone has the sticker then use the other ways to identify fakes.
d.) Unavailability of or poorly printed Nokia Care tamper proof warranty stickers are sign of a fake Nokia mobile handset.
e.) Genuine Nokia phones have a tamper-proof label at the back and they also have tamper-proof warranty seal.
f.) Original Nokia phone have batteries with hologram showing Nokia "Connecting people" logo and "Original Enhancements" written on them. If you slant the hologram left, right, down, and up you will see 1,2,3 and 4 dots on each side.
1 comments:
10:13 AM